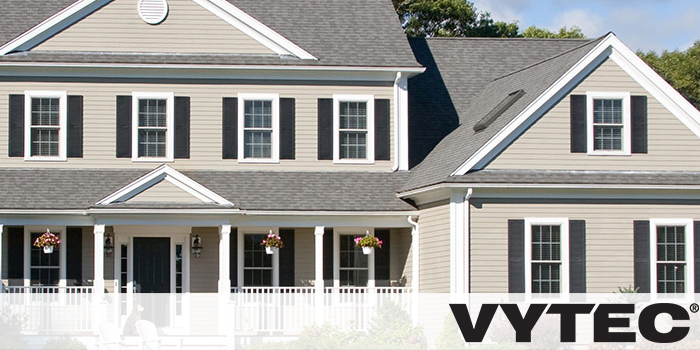 Make You Home One-Of-A-Kind
Vytec Prestige offers a lifetime of performance, beauty and low maintenance …that's what homeowners can expect when siding their homes with Prestige. Innovative features manufactured into this high-quality vinyl siding add up to a sound investment in home value. Available in over twenty new colors and five rich, bold expressions colors, Prestige heavy duty .044 gauge thickness siding is in stock in over 13 colors.
TruColor® Protection Technology provides superior color retention performance.
Rolled over nail hem adds strength where the panel is attached to the wall, resisting wind loads and helping smooth wall irregularities.
Withstands harsh weather, pollutants and temperature extremes
Resists scratches and dents
Keeps panels securely in place
Resists bowing and buckling
Cleans easily with soap and water
Never needs painting
Form Follows Function
Project on a budget? Vytec Nantucket offers both beauty and affordability. Engineered for durability, it resists scratching and denting. And because color is manufactured right into the panels, they won't blister like painted surfaces–keeping maintenance to a minimum. Available in a broad selection of colors and profiles, Nantucket vinyl siding offers a distinctive look that's virtually maintenance-free. Nantucket is in stock in over 12 colors in 4-1/2" dutchlap and D-4 traditional profiles.
*see actual warranty for details.
Full palette of rich colors
Low maintenance: panels won't rot, peel or flake like wood, and never need painting
Posilok® locking system securely engages the panel, yet allows for expansion and contraction – which is critical to performance in extreme weather conditions
Vacuum-sized profiles ensure precise dimensional consistency for a snug fit and tight laps
Innovative panel design helps eliminate unsightly gaps
Full-thickness nailing hem adds strength where the panel is attached to the wall, resisting wind loads and helping to smooth wall irregularities
Wood-grain finish gives the natural look of painted cedar
Meets or exceeds the requirements of tests supported by the Vinyl Siding Institute, the leading authority in vinyl siding performance testing
Manufacturer's Website