Posted on August 7th, 2018 in the category: News & Information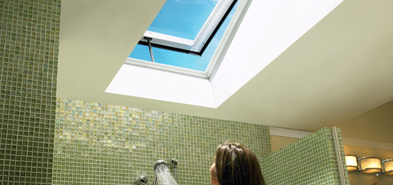 Few architectural items do more to enhance a building's interior than skylights. That's because skylights can bring exterior light into just about any interior space. That's an especially valuable quality for rooms that lack any exterior doors or windows. Many people assume that the benefits of skylights are restricted to interior lighting. While lighting is certainly the most obvious quality, there are many more attributes that contribute to their desirability.
More Than Just a Light Source
Modern skylights can help cut down on energy costs by replacing interior artificial lighting with exterior ambient lighting. Additional energy savings can also be achieved through lower heating and cooling costs. However, those savings depend greatly on each skylight's location and orientation (more on that in a bit.)
Ambient light is the most obvious benefit derived from skylights. However, recent studies suggest that skylights can provide psychological and physiological benefits as well. For example, a Wikipedia article about skylights references research by the University of Georgia, wherein students in classrooms with ample ambient lighting achieved significantly higher test scores than peers in rooms lit only with artificial florescent light. Studies have also found that ambient lighting from skylights can potentially increase productivity in a host of areas, including sales in retail spaces!
Dispelling the Drawbacks
Some of these benefits have only recently come to light – which is good, because skylights haven't always had a positive reputation. The two most common complaints about skylights were related to water damage and heat buildup from solar gain. But water leaks have less to do with the skylights themselves and more to do with proper installation: professional contractors today have more resources and information at their disposal to ensure that a properly-installed skylight will be weather resistant and water tight.
Likewise, installers can mitigate heat gain and heat loss through simple strategic placement. Northern-facing skylights are best for warm climates, as they provide consistent light while remaining relatively cool, while south-facing skylights provide the most potential for passive solar heat gain (this may be a drawback in the summer but can be a welcome change during winter months.) East and west-facing skylights provide the same degree of heat gain while offering different amounts of light during mornings and evenings, respectively.
Better Technology, Better Performance
Today's skylight manufacturers utilize energy-efficient materials and technology to create their products. The result is that most skylights can qualify for the same types of EnergyStar ratings as energy-efficient windows. However, it is especially important to consult with a qualified installer when selecting skylight units. A trusted installer can be invaluable in selecting the right units for your project. They can also be instrumental in determining the best placements for installation.
Finally, for the best indicator of a skylight's performance, go with a high-quality unit from a trusted manufacturer. For Wholesale Siding Depot, that manufacturer is Velux, an industry leader in the manufacture of skylight products. All Velux products include a 10-year "no leak" installation warranty. Buyers can customize their Velux skylights with a number of accessories, including blinds, shutters and remote controls. Additionally, Velux products are available in a range or styles and options, including innovative sky tunnels and roof windows.  Browse our Velux product page for more information, and shed some light on the many ways that a high-quality skylight can brighten up your life.