Posted on March 10th, 2019 in the category: News & Information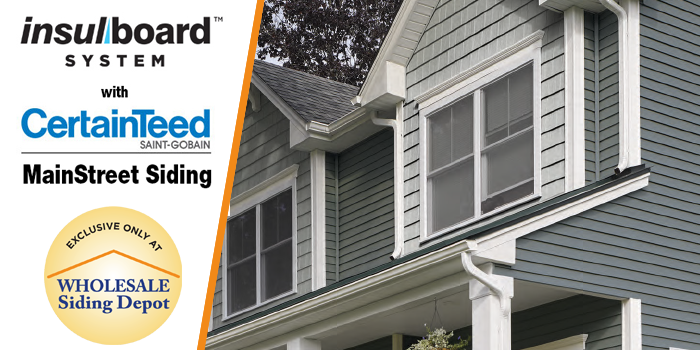 Wholesale Siding Depot is pleased to announce a revolutionary new product that will raise the bar for siding durability and performance, both for contractors and home owners.
Available exclusively through Wholesale Siding Depot, Insulboard™ is a groundbreaking new system that utilizes CertainTeed's popular MainStreet siding reinforced with a custom-contoured foam insulation backing. The result is a superior siding system that is structurally stronger and provides a greater degree of insulation performance.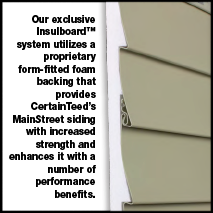 In terms of sturdiness, the Insulboard system is TOUGH – up to five times more impact-resistant when compared to other siding products. It also takes advantage of CertainTeed MainStreet siding's RigidForm™ 200 technology with a rolled-over nail hem. Not only does this give Insulboard a straighter on-the-wall appearance, but it's also been tested to withstand wind load pressures of up to 200 mph.
Along with its toughness and rigidity, the Insulboard system also delivers exceptional insulating performance: its custom-contoured SnapFit™ insulated backing increases R-Value by a minimum of 3.1 for clapboard and 3.8 for dutchlap. The design also prevents air infiltration, and even provides superior sound absorbency that reduces noise infiltration into the structure.
If you think any amount of style was sacrificed to achieve Insulboard's outstanding performance capabilities, guess again: the system is available in 26 low-gloss colors – including dark hues – with natural woodgrain textures and a surface that is virtually maintenance free that never needs repainting. It's also available in five classic styles: Double 4" and 5" Woodgrain Clapboard; Double 4" and 5" Dutchlap; and Single 8" Woodgrain Clapboard.
While many of the features touted about the Insulboard system are tailored to appeal to homeowners, it's worth noting that the system also delivers a few perks to installers as well. The siding features CertainTeed's patented STUDfinder™ technology that is engineered for fast, accurate and secure installation. It also incorporates a DuraLock® post-formed lock design that utilizes an oversized tear-drop shape substantially larger than those found on other siding products. This attribute makes installing the Insulboard system easy, efficient and secure.
Wholesale Siding Depot's Insulboard system with CertainTeed MainStreet siding represents a major step forward in the evolution of siding products and is set to make an immediate impact among contractors, installers and homeowners throughout the St. Louis region. Don't believe us? Stop by our showroom and see it for yourself. We're so confident in the Insulboard system that we've installed it on our own building – because with so many advanced features and performance benefits to enjoy, why wouldn't we?