Posted on March 6th, 2017 in the category: News & Information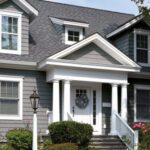 Wholesale Siding Depot Debuts New CedarLifeTM Profile in Four Color Blends
Beauty, as they say, is in the eye of the beholder. That's certainly true when it comes to choosing new siding. Some homeowners are drawn to the clean, simple look of white siding, while others may want the appeal of something more stylish. But what do you recommend for the customer who is looking to update the exterior of their historic home, or for someone who's looking for something that is stylish and colorful but also rugged and maintenance free? Well, we've got something for those customers, too.
Wholesale Siding Depot is pleased to debut CertainTeed Cedar Impressions CedarLife in single 7" Perfection shingles. This new profile recaptures the traditional look and ambiance of shake and shingle cedar siding found on many historic homes, but with a number of added benefits: it's extremely durable, requires no heavy maintenance, and it cuts down on material waste compared to similar products.
Cedar Impressions utilizes TrueTexture™ finish molding from real cedar shingles, giving the product the natural look of cedar shingle siding but without the expense and heavy maintenance required for wood. The TrueTexture™ process imbues each piece of siding with the look of freshly-sawn wood and a finely crafted finished appearance. Additionally, Cedar Impressions CedarLife offers four beautiful blended color options to give a rustic look.
Of course, beautiful siding isn't worth much if it can't stand up to punishment, and CertainTeed made sure that its Cedar Impressions line is capable of upholding both ends of the bargain. Each piece is made of an extra-thick, injection molded durable polymer to make it extra rigid, and features a molded Perimeter Lock™ that creates a seamless look while holding panels securely together. This innovative design results in strong, consistent on-the-wall performance that is engineered to withstand hurricane-force winds.
CertainTeed's Cedar Impressions siding is as stylish as it is durable, and Wholesale Siding Depot is proud to include it in our product selection. Call or email us to put in your order today!